About Virginia Nicholas and Moving Breath Pilates
Pilates...a wiser way to exercise.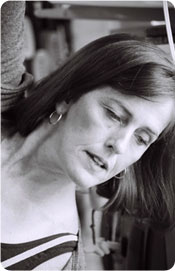 irginia Nicholas, M.A., R.N. is known as a teacher's teacher and recognized internationally as an expert in the Pilates method. She has lectured and taught in universities, colleges, and studios throughout the United States, Canada and Mexico. She received her Bachelor of Arts degree in Political Science and an Associate Degree in Nursing from Michigan State University and Lansing Community College (respectively). Virginia completed her Master of Arts degree in Theatre and Dance, with an emphasis in Kinesiology from the University of New Mexico in 1995.
Incorporating dance, athletics, and her background in emergency, intensive care, and cardiac care medicine, along with 30 years teaching experience, Virginia created Pilates Core Integration teacher training program. For 10 years, Virginia worked closely with Michele Larsson of Core Dynamics Pilates as one of six hand picked affiliate teacher training locations. Pilates Core Integration (PCI) is classical Pilates, infused with the rehabilitative genius of Eve Gentry and current knowledge about the body mind.
In 1995 she established Moving Breath Pilates, a Pilates studio in Tempe, Arizona, which also offers the Gyrotonic® method. The Moving Breath Pilates studio is home to the Pilates Core Integration teacher training program.
Virginia has presented at Body Mind Spirit and the Pilates Method Alliance conferences. She has created several Pilates and movement dvds that are currently available through Balanced Body, Moving Breath Pilates, and Pilates Core Integration. She has been on the faculty at Arizona State University, DePaul University, the University of New Mexico, Scottsdale Community College, and Lansing Community College.
With an extensive background as a professional dancer, registered nurse, teacher and master of the Pilates method, Virginia brings expertise and a movement sensibility to the Pilates method.
Featured news articles